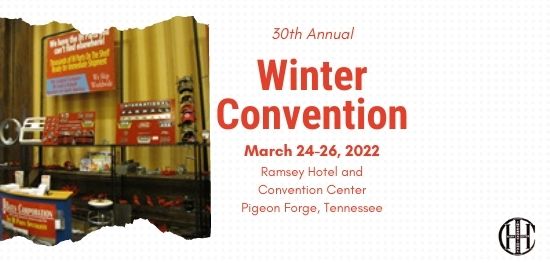 March 24-26, 2022
Ramsey Hotel and Convention Center
3230 Parkway
Pigeon Forge, TN 37868
Phone # 865-428-2700
---
We are making every effort to keep everyone informed and updated on the 2022 Winter
Convention to avoid confusion and problems.
Unfortunately, we have had some members upset because they are unable to obtain hotel
reservations at The Ramsey for nights prior to our event. Our contract with the hotel is for
Thursday, Friday, and Saturday nights. The Ramsey is hosting a group the days prior to our
Event which is the reason for the unavailability of rooms on Monday thru Wednesday nights.
The Ramsey contacted the Music Road Inn and they have set up a block of rooms for our
group at a reduced rate. The room will be 2 queen beds and it is on a first-serve basis. The rate
for Monday (3-21-22) to Wednesday (3-23-22) nights is $115 per night plus tax. Guests will
have to call 1-800-429-7700 for the group rate.
We also want to remind everyone that the check-in time at The Ramsey is 4:00 eastern time.
We do not know if rooms will be available for an earlier check-in time, the staff must be allowed
time to get rooms cleaned.
All Chapters and Vendors that will be arriving on Wednesday and setting up please take
notice. We cannot obtain access to the Vendor rooms until 1:00 Eastern time on Wednesday.
We will have a temporary staging area set up in the parking lot for any vendor that arrives prior
to this time to allow room for the group at The Ramsey to get loaded out. We will have the
Vendor room open as late on Wednesday night as needed. The vendor room will be locked up
after setup.
We also would like to remind everyone that the deadline for Registration, Chapter Table
reservations and Vendor reservations is on January 31, 2022.
This letter will also be posted on the National IHC website (nationalihcollectors.com) and
also the TN Chapter 9 website (tnchap9ofihc.com).
We appreciate everyone's cooperation and understanding and if you have any questions or
need additional information, please do not hesitate to contact Josh Roach or Debbie Mitchell.
Sincerely,
Josh Roach, Chairman
Debbie Mitchell, Co-Chair